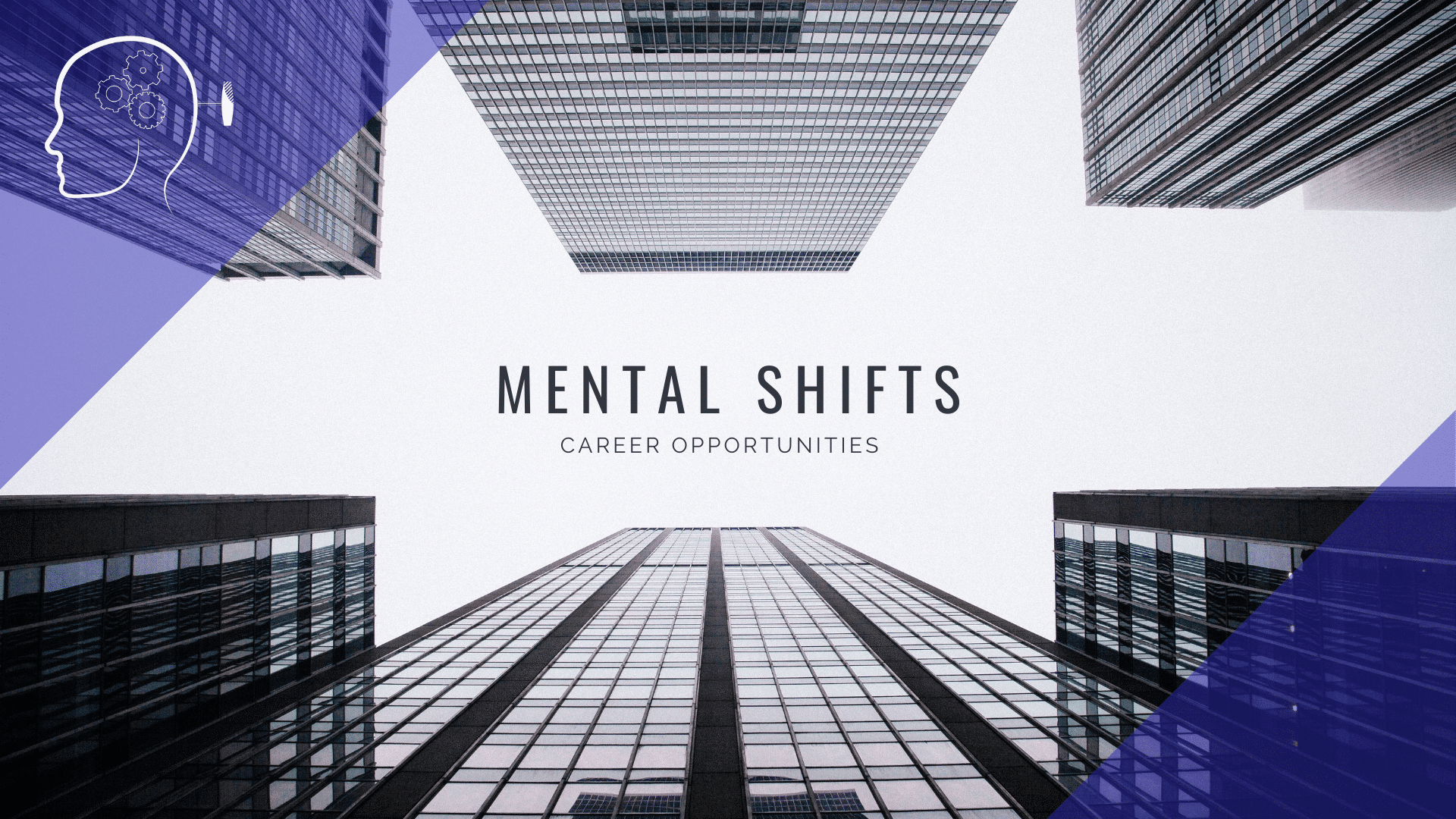 Considering Joining Our Team of Skilled Clinicians?
Do you dream of advancing your career as a Mental Health Provider? Are you looking to get in on the ground floor of a company that can provide growth and advancement opportunities you may not even realize are out there?
Do you dream of working in a environment that provides stability, flexibility, and is backed by service, joy, and inspiration?
Mental Shifts may be just what you're looking for! We offer Career Opportunities from State-Licensed Internships and are creating jobs all the way up to Clinical Director(s).
Are you someone who worked all these years in school only to feel stuck at a job that underpays you? Do you wonder if this is as much abundance as you can ask for? It is not. Don't let the scarcity mindset fool you. 
Or, are you maybe someone who started out on their own, but now feels discouraged and frustrated dealing with the business end of things versus enjoying the work of seeing clients? It's never a bad thing to want connection and help from others. At Mental Shifts, we believe that "Together, we can solve this."
Mental Shifts is changing the structure of Mental Health Group Practices in Las Vegas. Let us provide the structure and security of the Group Practice, while allowing you to be your own, individual clinician and get back to doing the work that inspires you.
Mental Shifts is NOW HIRING Full-Time Clinicians
At Mental Shifts, we strive to offer a boutique, quality Mental Health therapy experience to the greater Las Vegas area. We help individuals, families, couples, and communities feel worthy, wanted, and loved. We are a Group Practice located in Downtown Summerlin.
We are 98% insurance based, which is in alignment with our vision of being able to get anyone who wants/needs therapy the ability to get it.
Mental Shifts' work culture includes regular consultations, weekly scheduled meetings to workshop any cases, and team culture to help provide the best quality mental health care possible.
Thank you for taking the time to explore a career with us. We are excited to get to know you and see if you are the right fit.
What Mental Shifts Offers:
Outpatient Clinical Care in a Group Practice Setting

Dedicated Single Office

'Above Market' Compensation 

Full benefits package: Health, Dental, Vision, 401k (with match), PTO, Holidays, Bonus Structures, and More

License Renewal/CEU Reimbursements

Collegial Work Environment.

Newly Designed and Modern Offices in Heart of Downtown Summerlin

Full Administrative Support

Unlimited Coffee/Teas

10-15% discount in Most Stores/Restaurants in Downtown Summerlin

24/7 Security (can walk you to your car)

Strong Work/Life Balance

A Boss Who Cares & Wants to See You Succeed
Job Description:
Ability to Grow & Maintain a Full Case Load (~6 Clients a day; This includes: Scheduling, Notes and Documentation, and Managing Payments).
Attend Weekly Case Rounds meeting to hear/participate in rounding on cases from the group practice.

Attend Monthly Staff Meetings

Willingness to Supervise Students/Clinicians (if/when applicable)

Familiar with SimplePractice (or willingness to learn)

Willingness to Participate in Marketing/Branding, including Social Media.
Requirements:
Licensed in the State of Nevada, including LMFT, LCSW, LCPC, Ph.D, or Psy.D, CPC-I, and MFT-I
NPI Number
Full-Time Availability ONLY
Experienced with Caring for Adult and/or Child and Adolescent Populations
Experienced with Intakes, Treatment Planning, on Top of Notes/Documentation, Familiar with Medicaid Documentation
Preferred:
Fully-Licensed in the State of Nevada, including LMFT, LCSW, LCPC, Ph.D, or Psy.D.
AAMFT Approved Supervisor (or willingness to obtain State-Approved Supervision)
Applicant Already Paneled with Medicaid, HPN, UnitedHealthcare, SHL, or UMR.
Mental Shifts is an equal opportunity employer. We celebrate diversity and are fully committed to creating an inclusive work environment for all our employees
Job Types: Full-time, Contract
Join Our Team of Skilled Clinicians
Submit your CV today to be considered
If you wish to apply, submit your CV and Cover Letter to Dr. Jared Grant at jaredgrant@mentalshifts.com
Did you know Dr. Grant recently started a blog?
Curious about what goes into Mental Shifts and what makes Dr. Grant the Mental Health provider he is?
Check out The Mechanics Behind Mental Shifts!
Join Mental Shifts' Email Subscription and Get Dr. Grant's Fool-Proof Goal-Setting Worksheet FREE!